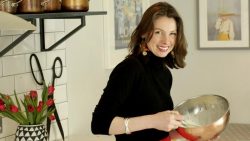 SHAFTESBURY-based private chef and food writer Philippa Davis, one of the Deepest Books team, is providing recipes and professional help to a new food aid service for people in need, which has been launched by the Shaftesbury Support Group.
The Food Aid scheme has been made possible thanks to a grant of £3,000 from the Dorset Community Foundation and is being run in partnership with the town council and local community and health organisations.
Dorset Community Foundation is one of the beneficiary charities of Deepest Dorset (the others are Weldmar Hospice and Dorset & Somerset Air Ambulance).
As a private chef, Philippa works for clients around the world, from Provence to Boston, Singapore to the Scottish Highlands. She is the food writer and recipe creator for Deepest Books (Deepest Dorset and Deepest Wiltshire) and is now researching Somerset food for Deepest Somerset, which is due to be published in autumn 2021.  Philippa also writes recipes for the BBC website.
She has produced a number of inspirational and healthy menu cards as part of the Food Aid Support Service. Each food parcel will contain the dry ingredients to make all the delicious weekly recipes and a voucher for the suggested fresh meat and veg.
The food scheme will operate every Thursday from 10am – noon to help people who have lost their income during the crisis or are in immediate need of food supplies in the short term. For more information please ring 01747 852420.