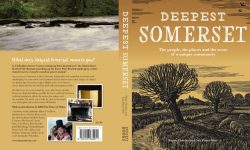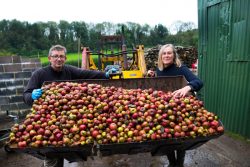 THE third book in our series, Deepest Somerset, is on its way to you.  It was printed at Blackmore in Shaftesbury on the last weekend in August, and is now at the bindery, where the cover, again featuring a wood engraving by Howard Phipps, will be joined to the pages.

We are getting ready to launch the book with a celebration of Somerset at the Rural Life Museum in Glastonbury later in September. Sadly, COVID restrictions mean that this is a strictly invitation only  event, with reduced numbers.  But Deepest Somerset will be in bookshops, farmshops and other outlets near you from 24th September.  You can also buy direct from this website – and we are delighted to have a number of orders already!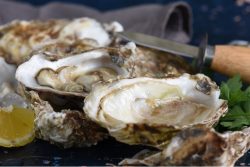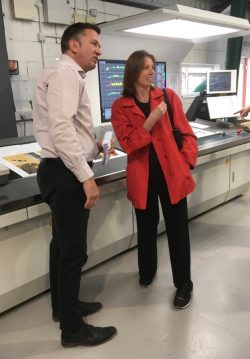 The proceeds will be donated to Somerset Community Foundation, the Farming Community Network and the Children's Hospice South West, thanks to the generosity of the Rothermere Foundation, which has funded the production of the book, as it funded Deepest Dorset and Deepest Wiltshire.
There are only a handful of Dorset books remaining, so if you want to collect the trilogy, act fast.
Here are some images from Deepest Somerset, including the cover, and a glimpse of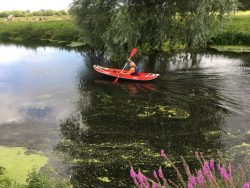 Fanny Charles and Philippa Davis, our chef and recipe creator, at Blackmore as the book rolled off the presses.   Those of you with eagle eyesight might spot that the introduction to Somerset comes from His Royal Highness the Prince of Wales.
Top left – Worley's award winning keeved cider in its infancy with its creators
Middle left – Simon West, Blackmore's Commercial Director, with an excited Philippa Davis
Bottom left – Olivia Inge, former model, in the Fashion section of Deepest Somerset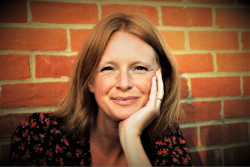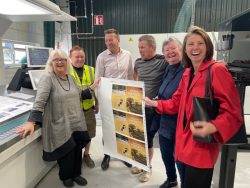 Top right – the cover
Second right – Porlock oysters
Third right – kayaking on the River Parrett at Langport
Bottom right – Fanny, Paul, Simon, Rory, Gay and Philippa at Blackmore