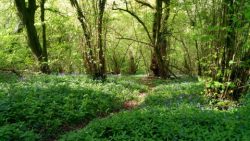 SPRING is sprung, the roadmap* is proclaimed and we are preparing to return to our Deepest Somerset work, after an enforced year in suspension.  The plan is to publish the third in our series towards the end of September.
We are looking forward to bringing you details of what it's like to live, to work and to play in what is now the country's most popular re-homing destination.
Watch out for updates in the coming weeks.
Mark Green's photograph of wild garlic and bluebells at Beer Wood near Aller was taken for Somerset Wildlife Trust.
*Hopefully the roadmap will be comprehensible to all those who can no longer read maps but rely on SatNav!