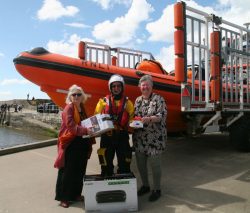 DEEPEST Dorset authors Fanny Charles and Gay Pirrie-Weir have presented photographic and printing equipment worth £1,000 to Lyme Regis RNLI lifeboat station.
Fanny says: "When we heard the lifeboat crew wanted some photographic equipment to help raise their profile even higher we were delighted to help."
Gay explained that the aim of Deepest Dorset was to benefit charities based in Dorset: "We wanted the donation to be spent locally," she said. The principal beneficiaries are Dorset and Somerset Air Ambulance, Dorset Community Foundation and Weldmar Hospicecare Trust. The lifeboat station donation brings the total raised to £40,000.
Deepest Dorset is available at local bookshops, including Serendip in Lyme Regis and Winstone's in Sherborne, and will be on sale at this year's Dorset Food and Arts Festival at Poundbury on Saturday 3rd August.
Pictured: Fanny Charles (left) and Gay Pirrie-Weir present crew member Dave Holland with a telephoto lens and photo printer. Photograph by Richard Horobin of Lyme Regis RNLI.