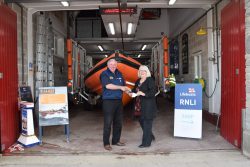 Deepest Dorset authors Gay Pirrie-Weir and Fanny Charles met two of the Lyme Regis lifeboat's deputy license authorities to hand-over a donation of £1,000. The cheque was presented to Ken Lavery and Simon Peters at the Lifeboat Station, close to Lyme Regis Boat Building Academy, which is featured in the book.
The Lyme Regis inshore lifeboat is a nine metre RIB, with a crew drawn from 19 fully trained volunteers, including two women. Last year, the lifeboat attended nearly 40 call outs, including people in trouble in boats in Lyme Bay, rescuing people whose boats had sunk and helping people cut off from the tide along the coast towards Golden Cap.
It costs £135,000 a year to keep the lifeboat operating, providing an essential service on the Jurassic Coast. New volunteers are always welcome, particularly those who can respond to call-outs during working hours on weekdays (ie 9am to 6pm, Monday to Friday).
This donation brings the total raised by Deepest Dorset to £40,000, for the charities, which include the key beneficiaries, Dorset and Somerset Air Ambulance, Dorset Community Foundation and Weldmar Hospicecare Trust.