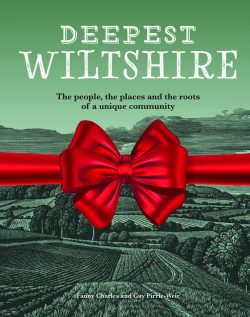 DEEPEST Wiltshire could just be the solution to your present problems – the ideal gift for anyone who loves or has a connection with the county, or would like to explore it for the first time.
We hope that bookshops will be open in time for Christmas, but in the mean time we have launched a Facebook page for you to contact us and to share with your friends and colleagues – facebook.com/fanny.charles.520
You can order Deepest Wiltshire (and the last few copies of Deepest Dorset) direct from us via this website.
DW is packed with beautiful photographs and the stories you'd expect to find, and many that will surprise you. There's history and landscape, food, farming, the military, Salisbury Cathedral, ancient painted churches, highwaymen, canals, gardens, famous people, the scandalous Lady Meux and even murder most foul.
Something for everyone might be a cliché but in Deepest Wiltshire it's true!
Some of the independent bookshops are arranging local deliveries or postage. Some farm shop stockists are still open. Check all these with the individual stockists, listed under "Where to Buy"
This year several scheduled talks and appearances at festivals have been cancelled, so Deepest Books, like everyone else, has suffered from the effects of Covid-19.  To make up, we'd like to sell lots of books in the run-up to Christmas.
Thanks so much to them for supporting our beneficiary charities – Wiltshire Air Ambulance, Wiltshire and Swindon Community Foundation and SSAFA (Wilts). We have already donated £20,000 to the Community Foundation's Covid Response fund. Every penny raised goes to the charities, so a present of Deepest Wiltshire is a double gift from you.