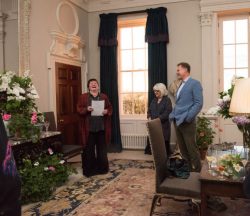 MASSIVE THANKS to all of you who have supported Deepest Dorset, by buying or selling  the book which has so far raised more than £40,000 for our beneficiary charities.
Exactly six months after our launch at St Giles House, we reached £30,000 from sales, and decided to present cheques to our three principal beneficiaries ­– Dorset Community Foundation, Dorset and Somerset Air Ambulance and Weldmar Hospicecare Trust.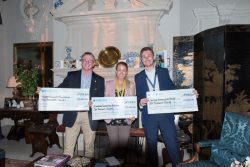 Lord and Lady Rothermere invited us to Ferne Park for the presentation – the most appropriate location as it was where the idea of the book was germinated. The Quinlan Terry house near Shaftesbury was filled with flowers and foliage from the gardens for the event, and booksellers, farmshop owners, staff and volunteers from arts centres and tourist offices and many friends who have helped to distribute and sell Deepest Dorset met  representatives of the charities and the book's production "team" before Lord Rothermere presented the cheques.
Further sums have been given to the charities since then, and there is more to come
Tell your friends, and keep on buying this ideal book for anyone who loves Dorset, visits Dorset, lives in Dorset or has the county on their bucket list.
Or if Wiltshire is your focus, as from 29th March you can buy the second book in the series
And Somerset here we come!