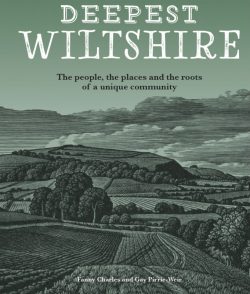 It is just 11 days to the launch of Deepest Wiltshire on 28th March – the first delivery of books has arrived from the printers and we are very excited to hear what people think!
The books are being delivered to bookshops across Wiltshire and will be on sale from Friday 29th March. Look out for the poster with the striking cover illustration of Winklebury Hill by Howard Phipps, who also provided the beautiful wood engraving for the Deepest Dorset cover.
We will have details of all the bookshops and other stockists on this website and we hope you will order and buy your books from your local bookshop, farmshop or other outlet.
If you are in the Swindon area, we will be on BBC Radio Wiltshire from 2pm on Monday 18th.
Deepest Wiltshire is raising funds for Wiltshire Community Foundation, Wiltshire Air Ambulance and SSAFA Wiltshire.
Look out for pictures from the launch event at Devizes Assembly Rooms on this website at the end of the month
This website is in the throes of updating, after which you will  be abe order books from the site.