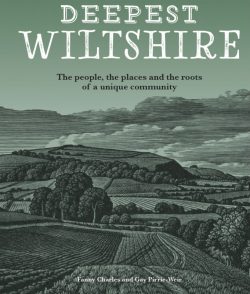 Deepest Wiltshire was launched at Devizes on 28th March, at a celebration of the county that included Devizes community choir, Wiltshire food producers and makers, many contributors to the book and invited guests, including representatives of the three beneficiary charities.
The books have been delivered to bookshops across Wiltshire and will be on sale from tomorrow,  Friday 29th March. Details are in the Where to Buy section.
If you would prefer to have Deepest Wiltshire posted to you, please contact us directly as the bookshops will not be able to offer this service.
Look out for the poster with the striking cover illustration of Winklebury Hill by Howard Phipps, who also provided the beautiful wood engraving for the Deepest Dorset cover.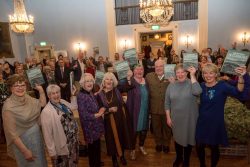 We have details of all the bookshops and other stockists on this website and we hope you will order and buy your books from your local bookshop, farmshop or other outlet.
Deepest Wiltshire is raising funds for Wiltshire Community Foundation, Wiltshire Air Ambulance and SSAFA Wiltshire.
Look out for pictures from the launch event at Devizes Assembly Rooms on this website at the end of the month
Len Copland's photograph shows Lord Lieutenant Mrs Sarah Rose Troughton, Devizes Deputy Mayor Mrs Judy Rose, The Rev Canon Gwyneth Evans, authors Fanny Charles and Gay Pirrie-Weir, Col Jamie Balls, Mrs Rosemary Macdonald chief executive of Wiltshire Community Foundation, and retiring High Sheriff of Wiltshire Mrs Nicky Alberry, with other guests in the Assembly Rooms.