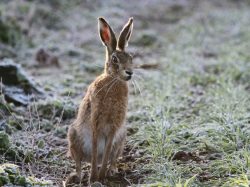 We are working on our second Deepest book, Deepest Wiltshire, to be published at the end of March 2019.
Finding out lots of fascinating things about the county that many people describe as "a doughnut" – though they don't say if it's of the ring variety (with all the good things round the sides) or a jammy one, with the important bits in the middle!
We will let you know what WE think after our research sessions are complete.
In the mean time, whet your appetites for Wiltshire Loaf, Morgan's Hill, a cave full of paintings, a flying monk, grisly murders or chocolate making with Dr Ennis – not to mention a top secret new A-list film, due out next year!
This Wiltshire hare is on tenterhooks for publication day!
Photograph by Dave Blake